The Pokémon Company prometió nueva información para Pokémon Sun & Moon y han cumplido, esto con un nuevo trailer que nos invita a visitar la región de Alola.
Como ha sido siempre en las últimas semanas, cada que The Pokémon Company nos promete nueva información sobre su próxima gran entrega, Pokémon Sun & Moon, la información es temprano, y esta ocasión siguen trayendo bastante, esto con un nuevo y fantástico trailer que nos presenta la región de Alola con todas sus islas, Pokémon legendario, y muchos nuevos detalles, aunque hasta ahora, ningún nuevo Pokémon.
Este nuevo trailer va directo al grano, nos presenta a los Pokémon Legendarios, cuyos nombres pensábamos serían estos, debido a los registros en Japón hace algunas semanas.
Primero tenemos a Solgaleo, el Pokémon del Sol, una especie de León blanco, Solgaleo es tipo Psíquico/Acero, y tiene la habilidad Full Metal Body la cual evita que sus estadísticas disminuyan contra cualquier otra habilidad, y su ataque especial es Sunsteel Strike, una poderosa embestida donde absorbe poder del Sol para acabar con sus rivales.
Luego tenemos a Lunala, el Pokémon de la Luna, Lunala es tipo Psíquico/Fantasma, y tiene la habilidad Shadow Shield, esta es una nueva habilidad con la cual un Pokémon recibirá menos daño de un ataque cuando este tiene la vida entera. Su ataque especial es Moongeist Beam, donde absorbe poder de la Luna y dispara esta en forma de un poderoso rayo.
En el trailer también se ha confirmado que la región de Alola es un archipiélago que consta de varias islas (6 por lo que vemos en el arte) en donde podrás explorar para convertirte en el campeón de la región.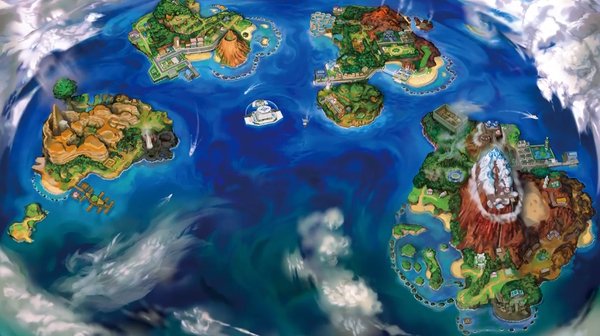 Además podrás cambiar el color de piel de tu personaje, esto con 4 opciones para cada uno, en cuanto a personalización y ropa como en X&Y no se ha revelado nada al respecto.
También se confirmó que el profesor de la región es a quien vimos en el primer trailer, Professor Kukui, luego tenemos a Lillie, la misteriosa asistente del profesor, Hau, quien parece ser tu primer amigo en la región y un nativo de Alola.
En un nuevo y fantástico detalle está que tu Pokedex tendrá un poco más de personalidad, ya que Rotom ha afectado el Pokedex, lo cual le dará una especie de vida propia, este no es cualquier Pokedex, es uno especialmente hecho para Rotom.
Pueden ver el trailer completo aquí, además de todas las imágenes disponibles al momento.