Muchachos y muchachas, es bueno tenerlos en esta ocasión acompañándonos. Ya hacía algún tiempo que no nos veíamos…
En este caso traemos el TOP 10 de Mujeres 'chingonas' en los videojuegos. Les voy a explicar en qué están basadas estas elecciones: las candidatas tienen que ser mujeres,  ser chingonas y ser personajes jugables de videojuegos. Y la mujer ruda que ocupa el lugar número diez es….
10. HEATHER (SILENT HILL 3)
Heather es la típica chica de preparatoria, en ningún momento pidió nada de lo que le pasó (pero de nuevo ¿quién de esta lista lo pidió?). Fue elegida ya que, en lugar de hundirse en la situación, ella encuentra su valor y hace frente a los horrores demoniacos que son ya comunes en Silent Hill. Al inicio del juego, cuando las cosas van mal en el centro comercial y se aventura a las cloacas (claro, eso con algunos comentarios odiosos y bastante graciosos de su parte) para tratar a llegar a su casa, solo para descubrir que las cosas se tornaron para lo peor. Ella en lugar de esperar al caballero en armadura brillante o en el mundo de los videojuegos al plomero con overol azul marino, decide enfrentarse a la situación e ir al fondo del asunto y visitar Silent Hill. Personalmente, si tuviera que visitar una dimensión obscura con alguna chica, ella sería mi elección.
9. ELLIE (THE LAST OF US)
The Last of Us ya es un juego algo obscuro -¿algo?- los zombies llegaron y la sociedad dijo adiós en un abrir y cerrar de ojos. Lo único que queda es esta niña y un acompañante empeñado a mantenerla con vida. Si bien este personaje no es jugable en la misión principal, sí lo es en un DLC donde conocemos toda su historia. Es importante reconocer que Naughty Dog le agregó profundidad al personaje, dándonos este intricando contenido donde nos muestra el camino que eligió para llegar a conocer a Joel y las situaciones y pérdidas que tuvo que enfrentar para llegar ahí.
Más importante, y aunque tiene la cara de niña tierna, ella no dudará en ayudar para mejorar la situación y si bien a veces tiene miedo, eso no deja que la detenga. Y en nuestra sociedad en la que las mujeres son "cosificadas" en la T.V. y los videojuegos, poniéndolas sobre pedestales como meros objetos sexuales, llega Ellie, con una historia de amor  que muestra más diversidad de la que estamos acostumbrados en los videojuegos, mostrándonos una versión más verosímil. Muy bien hecho Naughty Dog.
8. BAYONETTA (BAYONETTA)
Yo sé lo que van a decir ahora: "Hablabas de la cosificación de las mujeres y ahora nos hablas de Bayonetta, con sus temas sugestivos y su sexualidad".
Si bien el diseño de Bayonetta es algo sugestivo, no hay que olvidar que esta bruja es segura de sí misma, de su cuerpo y de su sexualidad. Y eso también hay que respetarlo, básicamente ella es una persona que está cómoda en su propia piel (ya que su ropa está hecha de su propio pelo y en algunos ataques más poderosos este se retira para hacer algunas formas, dejándola desnuda).
Bayonetta descubre en un viaje la verdad de su procedencia, ella sale triunfante con su poder femenino como aliado. Ella nunca será una víctima ya que en cualquier pelea tiene la situación bajo control. Experta en doblegar a sus enemigos y convertirlos en sus víctimas, esta bruja dará un dolor de cabeza a todo aquel que se ponga en su camino.
7. AMANDA RIPLEY (ALIEN: ISOLATION)
Amanda es hija de Ellen Ripley (la protagonista de las varias películas de Alien). La historia empieza cuando le dicen que encontraron información sobre lo que le pudo haber sucedido a su madre y que esa información está en la estación espacial SEVASTOPOL, para no hacerla larga, sí, la Sevastopol está infestada de Aliens y ella no es ni un marine, ni una policía ni nada de eso, ella es una ingeniera que tiene que ingeniárselas para mantenerse con vida.
Evadir al Alien sin ser detectada no es tarea fácil, más bien es una serie de pruebas a la salud mental y coraje que a una persona normal haría apretar tanto los esfínteres que podrían doblar una barra de metal. El juego tiene momentos muy tensos en los que al último minuto tienes que apretar unos botones para esconderte muy bien del Alien y hasta dejar de respirar para que no te huela ni te escuche. Amanda aparte de tener un temple de acero, gana unos puntos extra ya que es una Ingeniero -para quienes digan que las mujeres no pueden ser Ingenieros, Amanda se ríe en sus caras, de ustedes y de sus prejuicios-.
6. CLAIRE REDFIELD (RESIDENT EVIL)
Claire es la hermana menor de Chris Redfield y es un personaje recurrente en la saga. Y si bien, en las últimas entregas ya está más acostumbrada a los zombies, hay que recordar que ella no fue entrenada para ser un miembro que entra en acción, (un S.T.A.R.S. como Jill Valentine o Rebecca Chambers). Su aventura comienza inesperadamente cuando está -sí, lo adivinaron- buscando a su hermano y se encuentra en medio de todo el asunto de Ciudad Racoon. Las cosas se ponen más complicadas y bueno conocemos a Leon S. Kenedy.
Claire no es una persona que se sienta y se cruza de manos, e incluso en los últimos juegos (Revelations 2) ella es quien hace la mayoría de la acción mientras que su acompañante sostiene la linterna. Con un lazo fraternal de por medio, el único objetivo de Claire es encontrarse con su hermano perdido Chris. De hecho durante una parte de su historia eso es lo que la obliga a seguir adelante y enfrentarse a estas abominaciones genéticas.
5. LIGHTNING (FINAL FANTASY XIII)
Lightning es uno de los personajes que se transforman durante el juego. Si bien al inicio es una persona más fría y solitaria, conforme va pasando el tiempo y su aventura, aprende la importancia de la amistad y se va abriendo con el resto del equipo. Incluso de ser una persona pesimista -mucho después de la cristalización de su hermana- a alguien que mantiene la esperanza de que la volverá a ver y que podrá salvarla. (Con decirles que hasta acaba cayéndole bien Snow)….
Lightning es un miembro de la policía de Cocoon, si ha tenido entrenamiento pero por lo que fue seleccionada para aparecer en el listado fue su cambio en FFXIII. Ya que al ser una mujer muy fuerte, ayuda a otros a encontrar y aceptar su fuerza (Como Hope, cuando ella toma un rol de mentora).
4. LARA CROFT (TOMB RAIDER)
Lara Croft es un personaje clásico, ha estado en nuestras consolas desde el '96. Imagínense , casi 21 años de pura historia de digital. Y en un tiempo donde los personajes principales siempre eran hombres, aparece esta sexy heroína para cambiar el juego (literal el juego, ¿entienden? el juego… ok, no se preocupen, no voy a renunciar a mi trabajo de diario para volverme comediante). Muchos la clasifican como un parteaguas en la diversidad de género en los videojuegos, está heroína sirvió de catalizador en los 90's para hablar en favor de la inclusión del género femenino como personajes jugables.
Si bien, sus juegos tuvieron un periodo obscuro en donde sus atributos eran más reconocidos que sus habilidades, Croft está de regreso a las consolas para recordarnos por qué es que captó la atención del público en el '96, y ¿Quién dice que las mujeres no pueden hacer todo lo que los hombres? Ciertamente nadie que haya jugado los juegos de Tomb Raider puede decir esto, Lara es un personaje bastante chingón, ya que por 21 años NADA LA HA PODIDO DETENER.
 3. CHELL (PORTAL)
Imaginen que es un sábado por la tarde, ustedes se despiertan casualmente después de una siesta ya que el día está aburrido, cuando se dan cuenta que la sociedad colapsó, que el tiempo transcurrió y que están atrapados en un laboratorio de pruebas humanas con una inteligencia artificial asesina sin compasión, NI PASTEL…..rápido, ¿Qué harían?
Chell es uno de los personajes femeninos más inteligentes y temerarios, al menos las caídas de grandes alturas no la matarán por sus modificaciones en las piernas, imagínense tener el valor para atreverse a brincar así. Ella y solo ella es la única sobreviviente a la Inteligencia Artificial asesina GLADoS, mostrando que tiene lo necesario para sobrevivir y ser más inteligente que una I.A.  (EN TU CARA ELON MUSK). Las pruebas empiezan de forma fácil, y no son tan peligrosas, pero conforme vas avanzando y derrotando a GLADoS en sus propias pruebas, el escenario de pruebas cambiará, se añadirán lasers y hasta robots torretas que te dicen que "no te odian" mientras te matan ¡claro está!
2. SAMUS ARAN (METROID)
Originalmente confundida con un hombre gracias a su pesado traje. Samus es una caza recompensas intergaláctica que no dejará que nada ni nadie le patee el trasero, su nemesis es un dragón gigante espacial (nunca creí que usaría esas palabras juntas) llamado Ridley. Volviendo al tema anterior, en el primer juego de Metroid te presentaban a este personaje que parecia un pseudo-robot, lanzaba bolitas a los enemigos para aniquilarlos y avanzar en los niveles y no era sino hasta el final que te revelaban la última noticia.
¡¡¡Samus es CASTAÑA!!! No, bueno, sí era castaña en esos juegos pero la verdadera revelación es que al quitarse el traje, Samus era una muchacha en bikini.
USTEDES: ¿Pero por qué la pones como una mujer badass en los videojuegos?
Porque Samus es de una época donde los papeles femeninos eran relegados a 'premios', es decir, era la princesa secuestrada por la que tenías que atrevesar numerosos castillos y tierras para derrotar al villano y "ganartela". Samus llega a cambiar las reglas al revelarnos su género al final; ella no es un premio, ni está en problemas, ni necesita ser rescatada, ella es la heroína.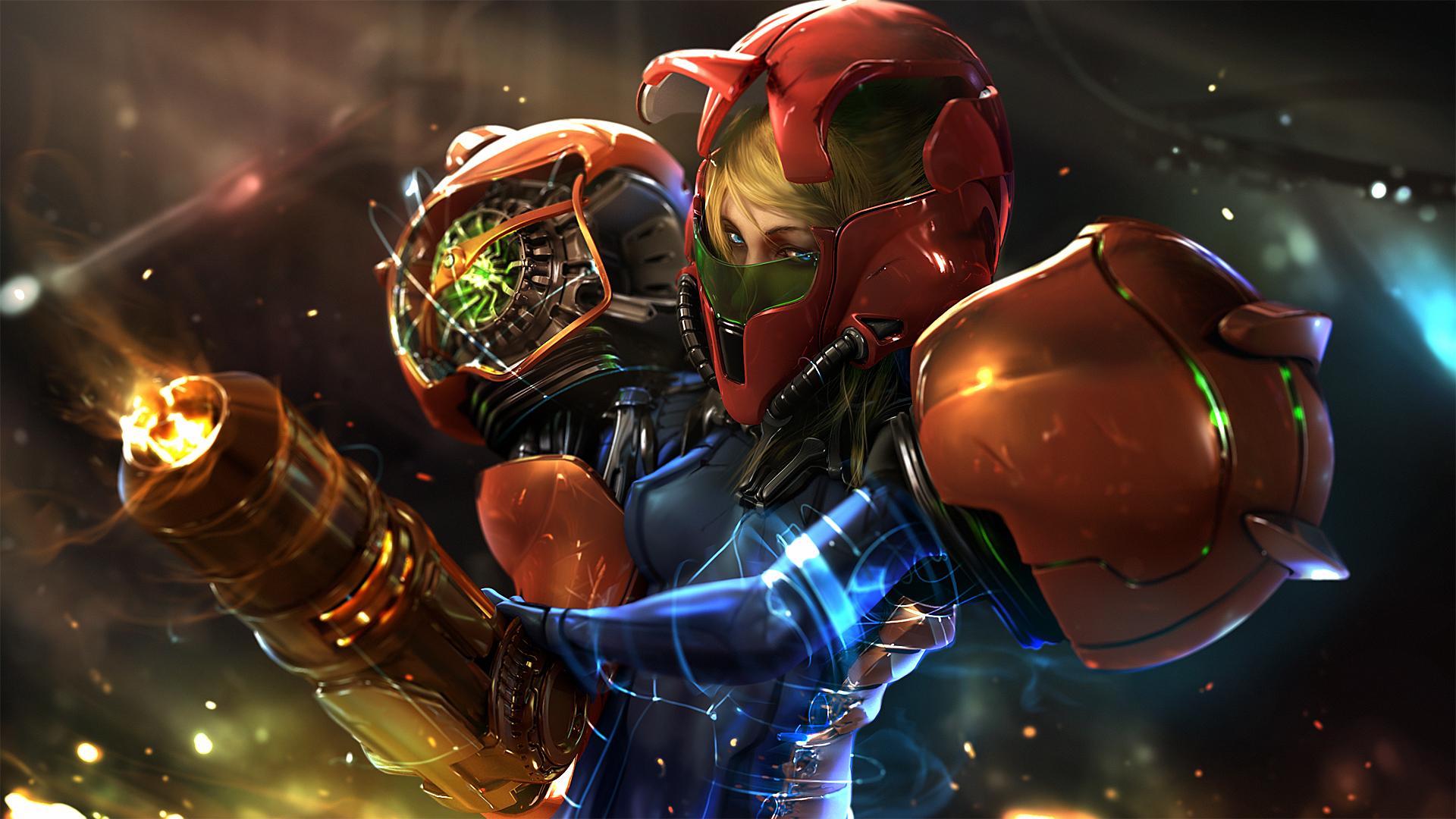 1. ELIZABETH (BIOSHOCK INFINITE)
Elizabeth Comstock (o Anna Dewitt -oops, spoilers-) es nuestro número uno. Esto debido a que es de los personajes que más cambios y adaptaciones sufre a lo largo de su viaje y de su historia. Desde una chica atrapada en una torre –Disney Style– Elizabeth no tarda más que un capitulo en adaptarse y convertirse en una aliada perfecta. Ella estará lista para ayudarte a pelear con las hordas -y hordas y hordas y hordas- de enemigos (a su manera claro está) abriendo portales para obtener cosas necesarias, conforme la historia avanza ella empieza a conocer sobre sus padres adoptivos y a resolver sus asuntos con ellos, asimismo, es forzada a madurar rapidamente y a tomar decisiones difíciles.
Si bien Elizabeth no es un personaje jugable en la historia principal, si lo es en el último DLC en donde se muestra la historia de Bioshock en su totalidad y cómo ella ha madurado para tratar de enmendar lo que ha hecho. Entonces tenemos a una 'princesa Disney' atrapada en una torre, que no tarda en convertirse en un personaje badass que no duda en patear traseros y llegar a su meta: ESCAPAR A PARÍS. Solo para que al final su meta se transforme en una más humanitaria y rescatar a las LITTLE SISTERS de Rapture.
Este ha sido nuestro TOP 10 de Mujeres BADASS en los videojuegos. ¿Están de acuerdo, no están de acuerdo? ¿Cuáles personajes hubieran metido ustedes a este listado? ¡Pónganlo en los comentarios de abajo y déjenoslo saber!