Parece que fue ayer, aquella época donde asistíamos a las salas "arcade"  donde podíamos encontrar juegos de disparos como House of the Dead o Time Crisis, de carreras y hasta de peleas, sin embargo un tipo de juegos que alcanzó un alto nivel de demanda y popularidad fueron los juegos de ritmo y en específico los juegos de baile. Gracias a Dance Dance Revolution este tipo de juegos alcanzó la gloria en muy poco tiempo ya sea individual o colectivamente, estos juegos marcaron significativamente una época y toda una generación. Para todos aquellos que no alcanzaron o no recuerdan jugar en esta salas, no podrán olvidar los días de Guitar Hero o Rockband, jugar con tus amigos a ser bandas reales y tocar tus canciones favoritas era el motivo de las reuniones de cada semana.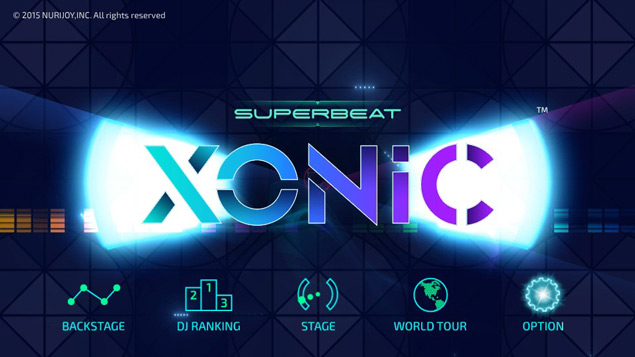 Es cierto que los juegos de ritmo nunca desaparecieron, sin embargo pasaron los años y su popularidad decayó considerablemente. Hoy en día parece que poco a poco comienzan a salir títulos dignos de jugar, títulos que parecen levantar la mano para hacerte revivir viejas glorias, y es por eso que en esta ocasión hablamos de la increíble experiencia que fue jugar SUPERBEAT XONiC.
Algo que siempre me gusto acerca de este tipo de juegos es que nunca excluye a nadie, no importa si has tenido la oportunidad de tener una consola toda tu vida o no, estos juegos están diseñados para que todas las personas pasen un buen rato con la música. La dificultad no es un impedimento, no necesitas ser el experto o el mejor para divertirte están adecuados para las habilidades de cada individuo y lo mejor es que tienen una curva de dificultad que ayuda a mejorar con un poco de constancia y práctica.
Gameplay
En cuanto al gameplay, SUPERBEAT XONiC no se diferencia de otros juegos de ritmo, los objetivos son los mismo e incluso la manera en que se juega. Las notas vienen hacia ti y cuentas con botones, puedes jugar con los botones de tu consola o con la pantalla táctil del PS Vita. Cada vez que una nota llegue al punto exacto deberemos reaccionar y apretar el botón para ir construyendo combos, entre más mejor y esto irá incrementando nuestro puntaje, incluso si no fallamos varias notas consecutivas habrá una bono "Fever" que mejorará aún más nuestro puntaje.
Ahora lo interesante del juego y lo que te mantiene enganchado por horas son los modos con los que cuenta. Por un lado tenemos el modo "Stage" donde podremos seleccionar varias pistas, por cada canción completada obtenemos una calificación y al final todo se suma para una calificación final. Dentro de este modo tendremos la opción para principiantes, intermedios, expertos e incluso un modo libre si no nos convence tocar pista tras pista.
Conforme vayamos terminando pistas también iremos juntando experiencia y nuestro nivel se incrementará. Por cada nivel que subamos podemos desbloquear importantes boosts, que incluyen desde mantener el combo hasta salud extra,  sonidos clave los cuales podemos elegir y suenan cuando tocamos una pista y por ultimo canciones para tocar en el modo libre de Stage.  Hay mucho contenido que desbloquear en SUPERBEAT XONiC y cada boost mejora con el aumento de nivel.
Existe también el modo "World Tour" en donde avanzaremos a través de  circuitos completos de canciones, una tras otra.  No solo tocaremos la pista sino que junto con la pista existen misiones, como por ejemplo: no fallar más de 5 ocasiones una nota o realizar un determinado número de combos. Este modo cuenta con una gran cantidad de retos por lo que tardaremos un rato si queremos conseguir todos y cada uno de ellos.
Por último existe un ranking mundial, basado por supuesto en los puntajes que obtengamos de cada pista concluida. El juego tiene muchas vertientes, si nos atoramos con alguna canción podemos intentar otra pista, las misiones te hacen pensar la mejor manera de concluir una canción, lo que mantiene el juego fresco por un largo tiempo.
Música.
Si estamos hablando de un juego de ritmo, no podemos evitar hablar de la calidad de música que contiene. Para empezar debo decir que al igual que los retos y niveles por completar, la cantidad de canciones con las que cuenta SUPERBEAT XONiC es lo suficiente para mantenerte ocupado por un largo rato. Los géneros son muy variados, desde música indie, k-pop, j-pop, electrónica, rock y un poco de metal.
Al principio no contamos con todas ellas lo que también le da un punto más a su favor, queremos descubrirlas todas y por supuesto solo te dan una rebanada del pastel ya que cada una es una experiencia distinta. Los géneros son muy variados y para el gusto de todos.
Conclusiones
A mi parecer, SUPERBEAT XONiC es uno de los mejores juegos de ritmo que he tenido la oportunidad de jugar. No solo por la manera en cómo se juega, sino por todo el paquete, la música es impresionante, el sistema de nivel me engancha a conseguir todas la canciones, sonidos clave, y boosts. Como mencione anteriormente el juego se mantiene fresco por su misma naturaleza de reto, no frustra a la primera ya que el nivel de dificultad está bien medido para que solo con algunas horas te vuelvas experto, por lo que recomiendo ampliamente darle la oportunidad. No tengo duda alguna que es de lo mejor que veremos en mucho tiempo y con un poco de suerte este tipo de juegos sea la solución para poner en órbita un género que se ha mantenido dormido por muchos años.