OrangePixel nos trae su conocido juego para iOs, y te traemos nuestra reseña de Gunslugs para el Nintendo 3DS.
Gunslugs (igual que otros juegos modernos) tiene un estilo 8-bit de guerra (al estilo de Broforce), pero con un estilo mucho más móvil, donde entras, avanzas lo que puedas, logras un máximo puntaje, pierdes y vuelves a iniciar, un estilo simple pick and play, donde puedes desbloquear contenido, una idea divertida, que quizá no se traduce tan bien al Nintendo 3DS, pero sigue siendo una forma divertida de pasar el tiempo cuando no tienes tanto tiempo para jugar.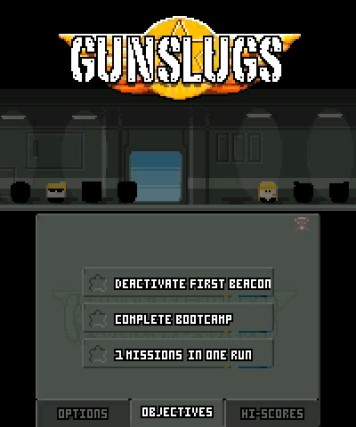 Gunslugs nos presenta una simple historia, y una misión simple, destruir todas las torres de comunicación, y escapar, pero hay una gran cantidad de enemigos frente a ti, los cuales intentarán acabar con tu vida, la cual es difícil de vaciar y armas que, si no es la original, se acaban rápidamente.
Por desgracia, y por el tiempo que he jugado (que ha sido bastante), no hay una gran variedad de armas, entre estas, pistola doble, flamethrower, lanza granadas y ya, una variedad corta de armas, y un detalle que realmente no me agradó es la falta de un arma de melee, en ocasiones puedes quedarte sin ammo y se vuelve un problema enfrentarte a enemigos sin poder siquiera atacarlos.
El juego te invita a seguir avanzando lo más que puedas, al terminar un área, seguirás de inmediato a otra, al llegar a una tercera tendrás un jefe al cual deberás vencer, y luego avanzarás a una nueva área, variando solamente por jefes y el arte de fondo, ya que usualmente los enemigos son parecidos en cada área.
En cuanto a la música, solo hay 6 canciones disponibles, las cuales son agradables para el juego, pero ninguna memorable que te harán querer escucharlas una y otra vez, solo ayudarán a la inmersión del juego.
Un punto fantástico son los mini juegos dentro de las secciones que puedes encontrar, con estilos de arte de juegos más antiguos, estilos únicos y divertidas sesiones entre el juego que no afectan tanto tu juego, solo pueden mejorar tus puntajes, pero sin duda agregan y mejoran el juego cuando quieres descansar un poco de disparar tanto, y necesitas disparar más, pero con otro estilo.
Gunslugs se lleva 3.5 estrellas de 5, sin duda una experiencia entretenida, que le falta refinamiento (el cual recibió en su secuela que se estrenó hace 1 año en el 3DS), pero sin duda, una experiencia pick and play que se disfruta en pequeños lapsos donde necesitas desahogarte en un rato de ocio, Gunslugs es una entretenida experiencia que te hace querer seguir.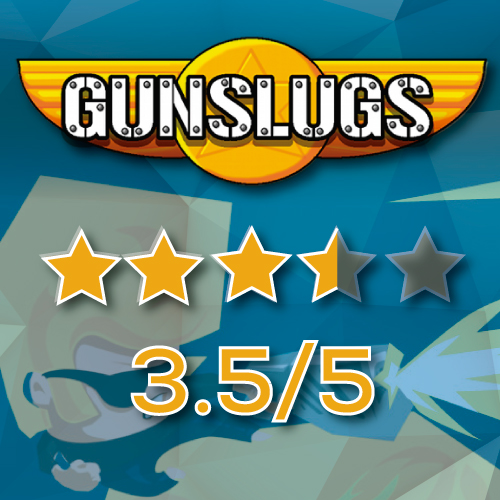 Pueden adquirir Gunslugs por medio de la Nintendo eShop por $1.99 USD o $25 pesos mexicanos, y para lo que ofrece el juego, es sin duda una buena experiencia que puedes disfrutar en pequeños ratos cuando necesitas más.