Vamos en el capítulo 7, y los siete dioses piden tributo, es por eso que les traemos la reseña del nuevo capítulo de Game of Thrones, "The Broken Man". [SPOILERS]
Es triste ver como los episodios de Game of Thrones se nos van como agua, este episodio no fue tan emocionante, pero nos dio mucho que pensar y el internet es obscuro y lleno de spoilers y teorías de conspiración, así que agarren sus palomitas y prepárense que ahí vienen los [SPOILERS].
Empezamos el episodio con una de las escenas geniales, que es ver a Sir Sandor Clegane de regreso en el mundo de los vivos, eso si alguna vez estuvo muerto. Quien está vivo y trabajando como constructor en una pequeña comunidad cristiana seguidora de la palabra de los 7 Dioses y su pastor o Sectum Ray. Y tenemos una lección de religión con el ex-Hound, acerca de cómo casi muere pero los dioses, sean quienes sean, dios de la luz, de la flama, de los mil rostro, los siete, los antiguos, el que sea, aun no quieren que Sandor Clegane esté muerto.
Después vemos como el Sectum Ray habla a sus querido feligreses de lo que él hacía antes de ser un sectum, asesino, ladrón e incendiario, lo que le diera dinero. Todo esto con el propósito de hacer que Sandor entienda que Dios tiene algo más grande para él. Aunque lo que les tiene preparado a estos feligreses es un grupo de hombres a caballo pidiendo comida, oro o acero como pago de protección, ya que "la noche es obscura y llena de horrores", con lo que el ex-Hound no está muy contento.
Después nos vamos a King's Landing, en donde podemos ver a Margaery Tyrell hablar con el High Sparrow de más religión (digo, ahora que la corona y la fe son uno, creo que el show está cambiando), ya saben, pasajes de los escritos sagrados, como Margaery debe de reanudar sus votos y darle un hijo a Tommen Baratheon  por el bien del reino y la corona, chantajes contra la integridad de su abuela; ya saben, lo normal.
Después Margaery, y una encargada del High Sparrow las vigila, habla con su abuela Olenna Tyrell, quien intenta hacerla entrar en razón, y ella solo le dice que no puede irse de King's Landing ya que es su deber con los Dioses y con la corona, pero en un momento de distracción de su chaperona, le entrega una hoja en la cual viene una flor dibujada, lo que nos da a entender que simplemente le sigue el juego al High Sparrow para poder hacer algo después.
Antes de que la abuela Ollena vaya de regreso a High Garden, Cersie Lannister habla con ella y de cómo tienen que rescatar el reino, de las garras tiránicas de la fe. A lo que La abuela Ollena solo responde que todo esto que ha pasado es específicamente por culpa de Cersie.
Y recordando de episodios anteriores, nuestro amigo y siempre incestuoso Jaime Lannister, en su empresa por reconquistar el castillo que tomo Black Fish (Brynden Tully). Cuando Jaime llega a las puertas del catillo pide parley (y no, no es un pirata). Cuando por fin hablan Tully y Lannister, llegan a estar acuerdo en que ellos invadirán, pero Tully no se va a rendir y que simplemente habrá una carnicería inevitable.
Después vamos al norte en donde tenemos a Jon Snow y Tormund Giantsbane hablando con los wildling acerca de ir a la guerra por salvar Winterfell, y porque deberían arriesgarse a ir con él , como siempre son pocos los que siguen a Jon a donde sea que vaya, pero los pocos que lo hacen terminan muriendo, son los más fieles que tiene, es así como los Wildlings son convencidos por Tormund cuando les dice "el murió por nosotros, le debemos eso" y después le dice a Jon "los salvajes no somos muy inteligentes, cuando decimos que haremos algo, si lo hacemos".
Más adelante llegan a la Isla del Oso, en donde los recibe Lady Lyana Mormont, quien es la que gobierna en este lugar, y después de unas intensas negociaciones en las cuales intervino el siempre encantador con las pequeñas, si me refiero a Ser Davos Seaworth, y logran conseguir 62 hombres de parte de los Mormont.
Lo malo de esta escena de las negociaciones para la guerra es cuando van a pedir ayuda a la casa Glover, en donde Lord Glover niega su apoyo a Jon Snow, porque el nisiquiera es un stark, y después cuando Sansa Stark exige su apoyo ya que están obligados por juramento, Lord Glover
le dice que una vez cumplieron su juramento a los Stark y fue cuando su hermano Robb era el rey en el norte, y como esto no les sirvió de mucho ya que Robb murió, y también el hijo de Lord Glover, la respuesta es un rotundo: ¡NO!
Aun después de ser despechados Sansa manda un cuervo a alguien a quien le pide ayuda, hay una gran teoría de conspiración en la cual se dice que le pide ayuda a Petyr Baelish, ya que en su nota se ve que dice "(…) comandas a los caballeros del valle (…)", les dejo el enlace con más detalles aquí.
Casi acabando el episodio tenemos que en Braavos, nuestra pequeña y siempre amada Arya Stark, esta comprando su pasaje hacia Westeros, para regresar a "casa", después de ofrecerle 2 sacos de oro a un capitán de barco comerciante, se le ve vagando por el muelle como cualquier persona que tiene la vida arreglada, hasta que una viejecilla se le aproxima al cruzar un puente y la apuñala varias veces en el estómago, para después revelarse como Waif (la otra acolita del Dios de los muchos rostros). Arya salta por el puente y escapa, después solo la vemos vagar desangrándose y con temor a todos los que pasan sin saber quién es un asesino en busca de su cabeza.
Aquí también hay muchas teorías por los fans diciendo que ella no era Arya, y que si lo era, todo este ataque ya lo tenía planeado, sin saber qué es lo que en realidad pasaba por la cabeza de Arya, les dejo también el enlace a página con estas teorías, aquí.
Para acabar el episodio volvemos con el ex-Hound, que después de una buena tarde de trabajo en el bosque para que sigan construyendo su iglesia los alegres feligreses que ahora son su nueva familia, solo regresa a ver que toda la comunidad fue atacada por los antes mencionados hombres a caballo, y que el Sectum Ray, fue colgado de la misma estructura que sería su iglesia. Al final de la escena solo vemos como Sandor toma un hacha y va con ojos de venganza por la cabeza de los que cometieron este crimen.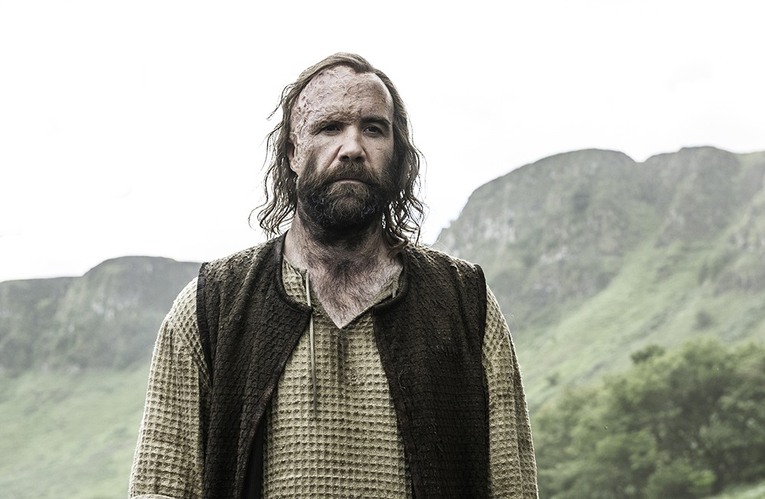 Conclusiones
Este episodio de Game of Thrones fue uno divertido, con el spoiler al principio de la historia, ya que muchos pensábamos que Sandor Clegane estaba vivo, y se nos cumplió. Ver como Sansa tiene que jugar una vez más el juego de Baelish es algo difícil de digerir, sobre todo porque nuestra pobre Sansa siempre termina siendo usada. Esperemos que haya aprendido una o dos cosas acerca de usar a sus contactos a su favor. En cuanto a las teorías de Arya, solo son teorías, esperemos que nos sorprendan un poco, así como con lo de Hodor, y que nuestra Arya no termine muerta como su hermano mayor, y la veamos reunirse con Jon y Sansa. Y recuerden faltan solo 3 episodios mas para que acabe esta temporada de Game of Thrones.