Les traemos la nueva entrega de las reseñas de Game of Thrones , con todo lo que paso y nuestras opiniones al respecto. [SPOILERS]
Nuevo episodio, nuevas pistas del futuro de la serie, tenemos cosas nuevas y les recuerdo como cada reseña de Game of Thrones que los spoilers están ahí, por si ustedes prefieren ver todo de corrido cuando salga, mejor evítense los spoilers y lean otros artículos de los que tenemos en Arkadian, y a continuación, la reseña.
Empezamos el episodio en donde nos quedamos la semana pasada, cuando se cumplen las profecías de las sagradas escrituras y Jesucristo Jon Snow regresa del mundo de los muertos, y Davos es quien lo recibe, así como dios lo trajo al mundo (porque también las chicas merecen su taco de ojo). Inmediatamente después llega Melisandre a quedar estupefacta porque ella pensaba que su hechizo no resultaría; bueno es uno de esos casos en los que piensas que vas a reprobar un examen y sacas 10. Después Jon y Davos hablan de lo que es tomar buenas o malas decisiones y como una decisión fue la que se lo llevo, pero que ahora tiene más oportunidades para cometer errores, y será mejor que aproveche la vida que se le ha regresado.
Ya vestido de nuevo, como debe verse el Lord Commander, se presenta ante los pocos hermanos del castillo Black y los salvajes del otro lado del muro, entre ellos su nuevo líder Tormund Giantsbane, quien le dice "Piensan que eres un Dios", a lo que Jon solo dice que él no lo es.
Estas escenas nos dejan ver lo frustrante que puede ser el volver de la muerte y como la Mujer Roja sigue dudando de sus creencias, a pesar de lo que acaba de lograr. Y por otro lado tenemos a Davos que empieza a creer en lo imposible al haber visto ya dos milagros de Melisandre, ambos para el supuesto beneficio de Westeros, y ambos por poder traer el tan mencionado héroe de leyenda o Azor Ahai, que merece ocupar el trono de hierro.
Y siguiendo con los Stark tenemos a Nedd, y no es que haya revivido, sería muy difícil en este momento, pero si podemos verlo más joven ya que Brann sigue teniendo las visiones del pasado con el anciano en el árbol, esta vez de como Nedd llega la torre donde su hermana Lyanna estaba cautiva por parte de Rhaegar. Al llegar a la torre tiene un enfrentamiento con Sir Arthur Dayne quien custodiaba la torre, y cuando lo vence, de una manera completamente diferente a como Brann conocía en las historias de su padre, Brann le grita, a Nedd, quien voltea la mirada, como si lo hubiese escuchado.
Aquí es donde, como dije en pasadas reseñas, nos enfrentamos al misticismo de Game of Thrones, que también se hace presente con los actos mágicos de Milisandre, pero aquí es algo que puede cambiar de cierta manera el juego, porque puede ser que uno de los poderes que tenga Brann es hacer sonar su voz en el pasado. Si fuera así estos ecos del pasado podrían resonar en el futuro y hacer cambios que cambien por completo la historia de la guerra de los siete reinos como la conocemos.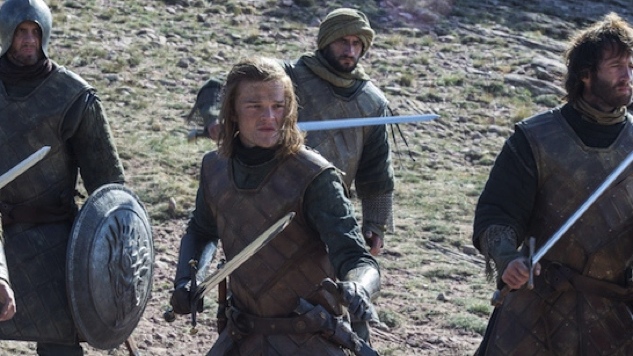 Ahora vayamos a Essos, en las lejanas tierras de Braavos, en donde tenemos a nuestra pequeña Daredevil Arya Stark Nadie, entrenando sus nuevos instintos y su falta de ojos, recordándose a sí misma que ella era Arya Stark y que ahora no es nadie. También podemos ver a quien antes podíamos llamar Jaqen H'ghar, que ahora no sabemos quién es, solo como el Un Hombre, quien entrena a Una Chica. Y puede que las promesas se cumplan ya que cuando un hombre ve el progreso de  una Chica le devuelve la vista dandole de beber de el mismo pozo de donde beben los sacrificios al dios de la muerte. "Bebe, si no eres nadie, no tienes nada que perder", y al beber de esta agua, una Chica recupera la vista y puede que un Hombre haya ganado una aprendiz.
Aun en Essos, Daenerys de la tormenta de la casa Targaryen, primera de su nombre la que no arde, reina de Meereen, reina de los Ándalos y los primeros hombres, Khaleesi del gran mar de hierba, rompedora de cadenas y madre de dragones ahora viuda de Khal Drogo (les juro que cada vez es más ridículo)o La kalisi, pa los cuates, llego al lugar donde las viudas de los Khales son llevadas a pasar el resto de sus días, o eso pasar cuando el consejo de Khales lo decida, si no es que por haber viajado al mundo la condena a la muerte por no seguir las tradiciones.
Y en el centro del universo de Westeros, es decir King's Landing, Cersei sigue regenerando su poderío, haciendo su Robo-Zombie-Mountain, haciéndose de la red de susurros de Varys e intentando retomar un lugar en el consejo del rey, a lo que Mama Tyrell y su tio Lannister simplemente le hacen un Drop Mic y la dejan sola.
Para finalizar el episodio tenemos al nuevo y renacido Lord Commander Jon "aquel que viene a expiarnos de todos nuestros pecados" Snow, que está por darle fin a la vida de los que lo traicionaron, ya saben porque lo menos que uno puede esperar por matar a su comandante en jefe es un manazo en el dorso de la mano y un sermón. Al pasar a hablar con cada uno de los traidores, ellos le dan sus últimas palabras, el primero le dijo a Jon que él no debería estar vivo, a lo cual OBVIAMENTE se le respondió, "y tú no debiste apuñalarme", o el segundo solo le pido que le informaran a su familia que el murió peleando contra los Wildlings; esto es bastante interesante ya que técnicamente Jon fue aceptado como parte de los Wildlings, pero sigamos. Después cuando habla con Allister Thorne que es recordado de las "malas decisiones" que ha tomado. Y por último tenemos a Olly, su fiel escudero que solo ha traído dicha a Jon, como aquella ocasión en la que le mato a la novia, o esa vez que lo apuñalo en el corazón, pero Olly no recuerda esto con dicha solo ve horrible a Jon antes de que el con su espada corte la soga que activa el mecanismo para que ellos mueran.
Terminada la ejecución se quita su manto de la Guardia de la noche y se lo da a Eddison Tollet, "quédatelo, o quémalo, haz lo que quieras, te dejo el Castillo Black", es lo único que Jon le dice, "mi guardia ha terminado", las últimas palabras con las que nos deja Jon Snow en el Castillo Black y un gran cliffhanger para el capítulo de la siguiente semana.
Conclusiones
Se lo que piensan, este episodio de Game of Thrones se sintió corto, y no fue muy emocionante, si, lo fue, pero hay que recordar que esto es lo que le da un buen ritmo dramático a la serie, el poder tener momentos de descanso hace que en contraste con los emocionantes estos últimos sean aún más interesantes.
En cuanto a lo que se trató, está bien ver que a Arya se le devolvió la vista y que tal vez pronto sea una Mujer Sin Rostro. En cuanto a Daenerys, yo ya me canse de estos momentos de su trama en los que ella no hace nada, solo se deja llevar por lo que pasa, sé que es un personaje muy fuerte y que es una de las favoritas para que tome el trono de hierro, pero en las últimas dos temporadas lo más emocionante que le ha pasado es haberse ido volando en Drogo y eso fue al final de la temporada.
Jon como siempre, la estrella de la noche, regresado de entre los muertos, el posible Azor Ahai, ahora deja el Castillo Black y es así como el capítulo se tituló Oathbraker, porque ahora Jon estaría rompiendo su juramento a la guardia de la noche, pero, ¿qué tanto lo estaría rompiendo un hombre que ya murió durante su guardia?, técnicamente Jon ya cumplió su guardia ahora le queda ya sea ir a retomar Winterfell o ir a buscar a los pocos hermanos que le quedan vivos. Ustedes, ¿qué creen que sea el siguiente paso de Jon ahora que ya no le debe nada a la Guardia de la Noche?, dejen sus comentarios y nos leemos en la siguiente reseña de Game of Thrones.