Les traemos la reseña del nuevo episodio de Game of Thrones, que nos demuestra que aún no sabemos nada [SPOILERS].
Después de un capitulo que nos dio más respuestas a las preguntas que teníamos al final de la temporada 5, tenemos esto, un episodio que nos da todo el hype y cosas que no queríamos y otras que queríamos que pasaran pero teníamos miedo, que es por eso que esta reseña nos demuestra que cuando piensas que sabes que es lo que va a pasar, solo nos podemos repetir que "no sabemos nada".
Es aquí donde les recomendamos que esta reseña está llena de spoilers, así que recuerden eso cuando empiecen a leer, si no pueden leer otros artículos y notas especiales que tenemos en Arkadian, mencionado esto, continuamos con la reseña.
Primero que nada empezamos con una de las historias que más han descansado en lo que va de la serie, y es que volvemos a ver a Brann, pero lo vemos caminando, aparentemente en Winterfell, mientras observa a una versión joven de su tía Lyanna y su padre Nedd, practicando, también ve a una versión joven de Hodor que puede comunicarse con los demás con más que un simple "¡HODOR!". Al terminar su visión del pasado y ver a la  espíritu del árbol hablar con Meera de que pronto tendrán que dejar ese lugar ya que una guerra está por empezar (no como si varias guerras estuvieran ocurriendo al mismo tiempo desde la primer temporada).
Estuvo bien que se volviera a tocar esta parte de la historia, ya que aparte de que el actor está creciendo demasiado y pronto no podremos relacionarlo con su personaje, y al mismo tiempo es algo bueno a lo que uno puede regresar y genera más intrigas acerca del misticismo que rodea todo el mundo de Game of Thrones.
Al mismo tiempo volvemos a las historias que al parecer son menos importantes como el viaje existencial que cruza Arya Stark bajo la tutela del hombre sin rostro, solo le ha costado, la vista, su nombre su mera existencia y por fin "una chica" deja de ser una pordiosera para convertirse, tal vez en una aprendiz de los secretos que el dios de la muerte le tiene preparados, y a pesar de todo esto no pudimos ver más en este capítulo porque ya saben que se le dice al dios de la muerte "hoy no".
Y siguen lo Stark en este episodio cuando hablamos de, la ahora tal vez sana y a salvo, Sansa Stark, que sigue con Brienne, Podrick y Reek Theon Greyjoy, aunque no por mucho ya que Theon decide que se tiene que ir, ya que |ha hecho mucho daño a los Stark, pero al mismo tiempo menciona que él no busca redención, pide un caballo y dice que ira a su hogar.
Y hablando de su hogar la tierra castillo que lo vio nacer, las islas del hierro, en donde su hermana Yara discute con su padre Lord Balon Greyjoy del destino de su padre y de la posición que ellos tienen en esta guerra de los reinos de Westeros, ya que sabe que ellos no son grandes estrategas terrestres pero en la mar no hay quien los venza, pero como siempre se ha demostrado en esta serie si eres mujer, pero no esperas enseñar los senos, serás descartada como una estratega militar ante los hombre viejos y blancos, y así una vencida Yara se va sin más que decir. Pero más adelante en el castillo, lord Balon es asesinado, por quien podría ser su hermano, al ser lanzado por uno de los puentes colgantes de los catillos. En el funeral Yara promete que como nueva sucesora ella llevara al culpable a la justicia y vengaría la muerte de su padre, pero la detienen al decirle que ella aun no es reina y que tiene que ser nombrada antes, lo cual es una posibilidad muy remota.
Ahora hablemos de las partes más cautivadoras de este episodio, hablemos primero de como en Mereen, Tyrion en uno de sus momentos lucidos de "voy a beber hasta que se me ocurra algo idiota que puede o no puede que funcione, pero, al diablo, estoy ebrio, hagámoslo" y decide ganarse la confianza de los dragones encarcelados (Rhaegal y Viserion) al ir con ellos decirles que es amigo se su madre y quitar sus cadenas.
Seamos sinceros esta escena es genial porque tiene las dos de las cosas que más amamos de la serie, Tyrion y los dragones, así que es por eso que la escena es tan genial, y como lo dije antes, obviamente esto no ponía en riesgo a Tyrion ya que es demasiado temprano en la serie para dejarlo ir, aunque recuerden si se encariñan de él, morirá, así que por favor que haya más detractores de Tyrion ocultos por ahí.
Lo segundo mejor, y para otros algo que fue demasiado ya que fue catalogado como un momento de "no deberías hacer eso por televisión", es que en las tierras del norte donde conquistan los Bolton, seguimos con las rabietas de ellos, Ramsay y Roose, aunque en esta rabieta Roose saco las de perder, porque después de que le anuncia el maestre que su hijo LEGITIMO ha nacido, Ramsay le expresa sus felicitaciones como cualquier bastardo sin honor hijo le demuestra su padre, que es apuñalándolo y tomando su posición en el norte, pero no solo eso, eso es normal en esta serie, es más mienten si no les emociono ver esta escena y que es el mejor Karma que hemos visto después de la "Shame Walk" de Cersie Lannister, fue lo que siguió lo que a varios los hizo sentir miedo de lo horrible que puede llegar a ser Ramsay, ya que dio de comer a su "madre" y a su hermano a sus perros de caza.
No cabe duda que Ramsay sube y sube en los escalones de villanía en esta serie, ganando por completo al ex-padre del año, Stannis Baratheon y su exquisita barbacoa de hija que monto en la temporada pasada. Este muchacho pinta para hacer algo increíble y esperemos que lo logre ya que es el único que pinta para declararle la guerra al ejército de los Lannister.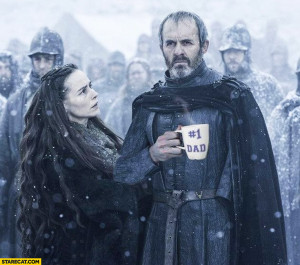 Y por último la Pièce de résistance de la noche fue… SI ES EL ASOMBROSO REGRESO DE NUESTRO LORD COMANDANTE, el señor Juanito de las nieves ha vuelto. Cuando los amigos de Jon Snow están rodeados y a punto de ser sacados como brochetas de los cuartos del difunto Jon Snow, son rescatados por un ejército de Wildings del otro lado del muro junto con su amigo el gigante, y así es como mandamos a todos los traidores, incluido el desgraciado traidor Olly, el ex-escudero de Jon. Entonces podemos ver lo que muchos no creíamos, pudimos ver a Sir Davos pedir a la bruja Roja que hiciera algo que les regresara a Jon, y verlo admitir que tal vez la magia y parafernalia del dios fuego son reales. Es así como la vemos hacer su ritual para revivirlo y ver que nada paso, pero después de una toma alargada hacia la habitación, donde el difunto estaba, nos enfocamos en Ghost que despierta y voltea a ver a Jon que solo da un respiro profundo de vida el cual nos hizo gritar a todos como colegialas al ver a su estrella de pop favorita, Y COMO NO VA A SER POR FIN VOLVIO NUESTRO LORD COMMANDER, POR FIN JONNY VOLVIO… quiero decir podemos así ver que la serie a veces no solo se trata de hacer sufrir al espectador.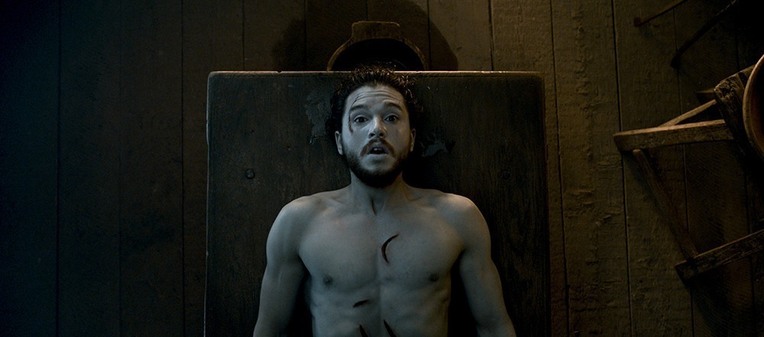 Conclusiones
La serie va por buen rumbo la manera en la que nos están dando lo que queremos después de largas temporadas de sufrimiento solo se comparan a la incesante espera que todos vivimos de ver la funesta, pero reconfortante boda purpura. Es por esto que la serie sigue en el aire y por lo mismo que todos la vemos religiosamente, ya que nos da de la misma manera que nos ha quitado, nos quitó a casi toda la familia Stark, pero a cambio nos ha dado el crecimiento de los pocos personajes que quedaron, como lo son Jon, Sansa, Arya y Brann, y no solo un crecimiento de edad, que es bastante obvio a la vista, sino un crecimiento como personajes y como elementos a la trama que nos va a dar de que hablar en capítulos y temporadas consiguientes. Esperemos que todo siga saliendo bien para Jon, no sabemos cuál será la reacción de sus asesinos al verlo de nuevo vivo y respirando por todos los hoyos que le dejaron, tal vez Jon sea el Azor Ahai, del que hablan las profecías de Melisandre.