Ya solo nos quedan 3 episodios más, aun así seguimos emocionados y les tenemos en la reseña del nuevo capítulo de Game of Thrones, "Blood of my blood". [SPOILERS]
Ya llego, ya está aquí, la nueva reseña de Game of Thrones con el esperado episodio 6: Blood of my blood. Prepárense y no se quejen, porque ya vienen los SPOILERS.
Empezamos este capítulo de la segunda mitad de temporada con Bran Stark y Meera Reed huyendo de los WHITE WALKERS, todo esto mientras Bran sigue teniendo visiones del presente, pasado y tal vez futuro. Y justo cuando están por ser atrapados, una figura misteriosa haciendo una increíble demostración de habilidades con espada y lo que parece una almádena en llamas salva a los dos chicos. Este personaje que está cubierto del rostro, nos revela casi al final del episodio que es Benjen Stark, ya saben, el tío perdido, que supuestamente murió y el que usan como distracción los traidores del Castillo Black para matar a Jon Snow, sigue vivo y es como un medio hombre medio caminante blanco, quien está al servicio del cuervo de tres ojos, ahora Bran.
Está bien que se haya hecho esta escena con cortos del pasado y el presente, ya que nos ayuda a entender el punto de vista que tiene el cuervo de 3 ojos del mundo. También es bueno que ahora tengan un cuidador nuevo estos dos niños, no suplirá la muerte de Hodor pero servirá para no sentir que están desamparados, además que esto es el regreso de uno de los personajes que creíamos perdidos, pero que sigue vivo, y ahora puede darnos más de lo que nos dio cuando lo pensamos muerto.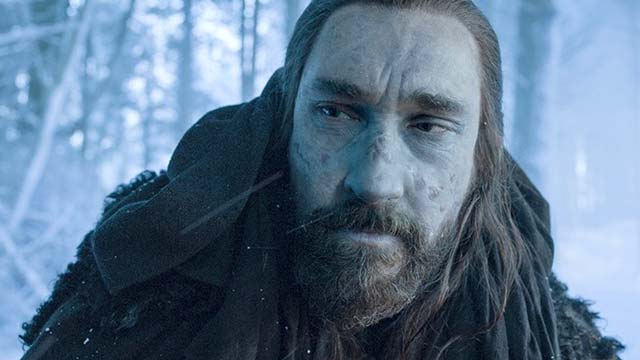 Después de esto volvemos a nuestros casi olvidados Samwell Tarly, su "esposa" Eli y su hijo Sam, regresando a las tierras de las que una vez Sam fue desterrado. Aquí son bienvenidos por su madre y su hermana, antes de cenar que es cuando verán a Randyll Tarly, y a Eli se le promete un tratamiento de vestido y limpieza, al más puro estilo de Pretty Woman.
Ya en la cena cuando Sam presenta a Eli y a su hijo a su padre, este nos demuestra porque Sam tuvo que irse, con insultos a su hombría y haciéndolo menos por ser una persona culta, leer y escribir, es como Randyll lo recibe en la mesa, durante la cena. Pero como siempre es de esperarse, Eli sale al rescate diciéndoles lo maravilloso, valiente y macho alfa, espalda plateada que es Sam.
Durante toda esta escena es cuando nos damos cuenta de lo bien acomodado que era Sam antes de pertenecer a la Guardia de la noche, de igual manera que toda su familia lo acepta y quiere, nada de lo que muchos pensarían de su familia, el único problema es su padre, quien nos roba más de 20 minutos del episodio hablando de lo poca cosa que es Sam y lo mucho que él lo quisiera muerto. Otra de las cosas buenas es poder ver otra de las espadas de Acero Valirio: Heartsbane (veneno del corazón). Esto es importante ya que es una de las 3 espadas de Acero Valirio que quedan en Westeros. Es importante porque después de la exhibición de desagrado por parte de su padre, Sam decide irse de ahí, llevarse a Eli, su hijo, y la espada que le pertenece por derecho al ser el primogénito de la familia.
Mientras en las lejanas tierras de Braavos, Una chica sigue con su asignación de matar a la actriz que representa a Cersie con los actores de la bahía. Antes de que la obra acabe, Una Chica se escabulle y envenena la bebida prefería de esta actriz. Pero, después de que ella y Una chica, entablan una conversación de como ella podría mejorar la obra, ya que no quieren que sus obras sean solo con humor de pedos y eructos. Así que un segundo antes de que tome de la copa, Arya Stark, la detiene y le dice que la actriz más joven es quien pidió el asesinato, y que debería cuidarse.
Po otro lado en el templo del Dios de las muchas caras, Un hombre hablando con Una chica discuten de como Arya no pudo cumplir su trabajo, así que lamentablemente debe ser eliminada, lo único que Un Hombre pide es que sea rápido, ya que al parecer desarrollo cierto cariño por ella, aunque lo justifica diciendo que simplemente es triste que tenga que morir ya que era demasiado buena. Acto seguid Arya va a recoger sus cosas que la hacen ella, siendo la más importante la espada que le regalo su hermano, Needle.
Una gran escena que da fin a un buen arco histórico, todos queríamos ver a Arya siendo una Sin Rostro, pero mientras todo sea para el bien de su familia, creo que estará bien, aunque debió de haber aprendido muchas cosas, esperemos que entre esas cosas sea a robar caras ya que le serviría mucho para poder seguir limpiando los nombres de su lista negra de gente que la ha lastimado a ella y a su familia.
Mientras en King's Landing, Tenemos a Margaery Tyrell a punto de hacer su caminata de expiación, a lo que los Lannister y Tyrell ya tenían un plan, en el cual iban a llevar sus dos armadas para tomar a Margaery, y evitar su exposición pública. Pero en el momento en que todo podría pasar, sangre derramada, mujeres desnudas caminando por ahí, el High Sparrow hace la observación de que Margaery ya expió sus pecados al traer a alguien más a los ojos de los dioses, es cuando Tommen Lannister Baratheon sale del templo para declarar la unificación de la corona con la fe, y es así como por fin el High Sparrow gana la guerra de poderes contra los Lannister los ricos y poderosos de King's Landing.
Y ya para acabar con el episodio volvemos con la Kalisi (Daenerys de la tormenta de la casa Targaryen, primera de su nombre, la que no arde, reina de Meereen, reina de los Ándalos y los primeros hombres, Khaleesi del gran mar de hierba, rompedora de cadenas, madre de dragones, viuda de Khal Drogo, lord of the dance, del sagrado corazón de Jesús) quien trae de regreso a su Khalasar para Meeren y se pregunta qué tan factible seria llevar a TODOS sus seguidores, a Westeros y cuantos barcos necesitaría (foreshadowing), a lo que Daario contesta que mil, aproximadamente (en serio que descarados con el foreshadowing), y es cuando decide que para alzar la moral de su Khalasar debe hacer algo asombroso. Es cuando se aleja del grupo, les pide que no se muevan y triunfante como en portada de disco de Power Metal, llega montada en su dragón a invitar a todo su Khalasar a dominar el mundo y entregárselo como en un momento se lo prometió su esposo Khal Drogo.
Conclusiones
Todo el episodio se me hizo un poco lento, pero tuvo avances en lo que respecta al ámbito político, con la victoria del High Sparrow ante la corona pudimos ver como hacen falta los dos más grandes jugadores en este Game of thrones, si me refiero a Varys y Petyr Baelish. Las escenas del regreso de Benjen fueron cool, sobre todo porque ya sabemos que Bran y Meera no van a perecer tan pronto. En cuanto a lo de Arya fue más el cómo se armaron las escenas de lo que paso en realidad, esperemos que en episodios posteriores veamos un gran enfrentamiento entre Arya y la otra acolita del tempo del Dios de las muchas caras.
Lo de la Kalisi no se me hizo tan impresionante, y hasta de sobra, solo una manera de explotarla por los que piensan como yo, que su historia está volviéndose floja. La escena de la noche es cuando Sam se roba a Heartsbane diciendo "si la quiere quiero ver que intente recuperarla". Ya que fue traumático ver a Sam no hacer nada contra el abuso de su padre, que aunque sea se le rebele bajo las barbas fue una gran escena y es bueno saber que ni Eli y su bebe se quedaran en este lugar del diablo.