Para esta tercera semana del mes de mayo, les traemos las siguientes comics recomendados: FUTURE QUEST #1, DEADPOOL: LAST DAYS OF MAGIC  y LUMBERJANES: MAKIN' THE GHOST OF IT 2016 SPECIAL #1.
FUTURE QUEST #1
Este título nos llega definitivamente con el fantasma de la nostalgia (y también el Fantasma del Espacio), ya que es un comic de revoltijo con todos los personajes de aventura de la productora  Hanna-Barbera. La historia que; va por cuenta de Jeff Parker (Batman '66) y el arte de Evan Shaner y Steve Rude; nos muestra a Jonny Quest, que con su hermano adoptivo Hadji, son transportados a un mundo fantástico, a vivir aventuras con los demás héroes de aventura de Hanna-Barbera. El motivo principal por el cual recomiendo este comic  (además de la nostalgia), es que mayoría del diseño de los personajes va por cuenta de Darwyn Cooke, quien nos dejó en los recientes días.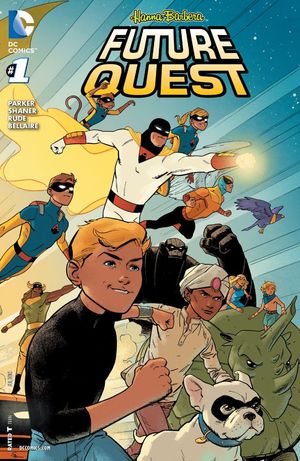 DEADPOOL: LAST DAYS OF MAGIC
Gerry Duggan, nos trae esta vez una nueva historia de nuestro mercenario bocón en una lucha lado a lado con el mismísimo Mago Supremo para evitar la desaparición de todo lo mágico en el universo Marvel. Doctor Strange y Deadpool, siempre podemos pensar que cada que se habla de una nueva historia de Deadpool, esta suena tan ridícula, que debe ser una broma, pero no es asi. Y bueno no creo tener que darles más motivos que "es el Jo#$%o Deadpoool", pero si quieren una, es que todos los mini-eventos de Deadpool han sido excelentes, más cuando se va a mezclar con un personaje que va a tener pronto su propia adaptación al cine.
LUMBERJANES: MAKIN' THE GHOST OF IT 2016 SPECIAL #1
Lumberjanes por Jen Wang y Kelly Thompson, es una multi-galardonada novela gráfica ("Novela Gráfica", mis queridos es "soy un comic profundo y hago que quien me lea no se sienta mal por leer comics"). Esta vez llega a nosotros con un Oversized One-Shot, contando la historia de Jo, April, Molly, Mal y Ripley en un viaje para saber más acerca de sus habilidades de supervivencia  en el bosque. El motivo para tener que comprar este título es simple, es uno de estos nuevos comics con una buena historia, agradable y amena, de dibujo simple pero accesible. El titulo por si solo ha ganado ya dos Eisner Awards, para mí estas son razones suficientes para empezar a adentrarse en el título y poder entenderlo mejor y tal vez hasta conseguirlo en serie regular.
Sin más solo queda recordarles que las recomendaciones de cómics, ya están disponibles a la venta en ingles en las tiendas especializadas, ya sean físicas o virtuales.