Los cómics recomendados de  esta semana: Batman & TMNT, Pretty Deadly y Gwenpool.
Esta semana la lista de cómics estuvo intensa y en Arkadian no podíamos quedarnos con los brazos cruzados, así que tenemos 3 títulos que les queremos recomendar:
BATMAN/TEENAGE MUTANT NINJA TURTLES #5
No cabe duda que cuando hablamos de vigilantes que cuidan en la sombras siempre podemos pensar en Batman o las Tortugas Ninja, pero ¿alguna vez pensaron ver a estos dos justicieros de las sombras unirse en una aventura?, pues James Tynion IV junto con Freddie E. Williams nos traen esta mini serie de 6 números con el esfuerzo conjunto de DC Comics y IDW. Es la genialidad de esta historia lo que la hizo llegar a los cómics recomendados.
En la historia podemos ver como Batman y las Tortugas unen fuerzas para pelear contra los villanos que escaparon del Arkham Asylum y enemigo a muerte de las tortugas, Shredder.
PRETTY DEADLY #9
Con el bello arte y trazo de Emma Rios (HEXED) y la autoría de Kelly Sue DeConnick, reconocida por sus obras con subtexto feminista, como BITCH PLANET y Captain Marvel and The Carol Corps, nos trae este western místico apocalíptico.
Pretty Deadly  nos cuenta las desventuras de Ginny, la hija de la muerte en su constante pelea para seguir adelante, un comic lleno de violencia y los horrores que solo puede traer la guerra, con una narrativa casi poética, y mucha acción solo podemos decirles que Pretty deadly es uno de los mejores comics que hay del genero western.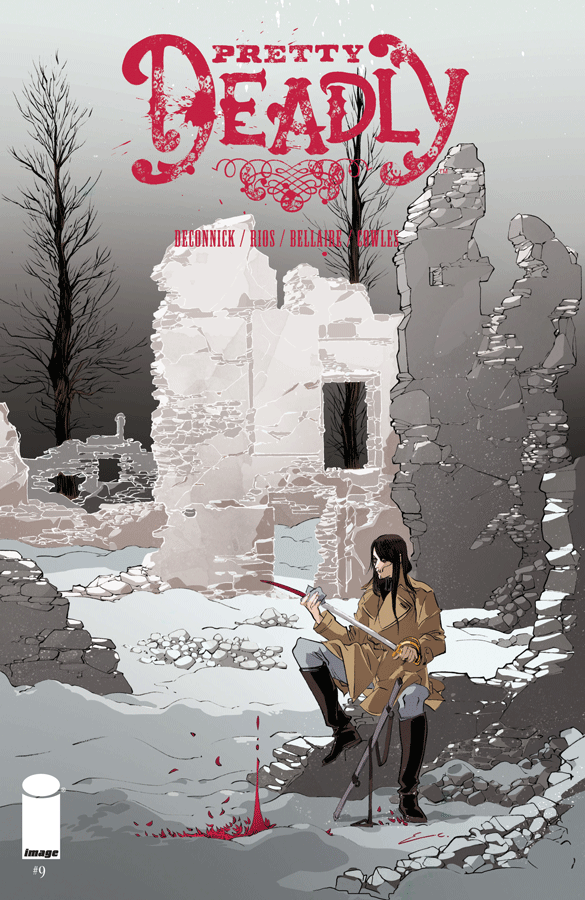 THE UNBELIEVABLE GWENPOOL #1
Después del asombroso éxito de la asombrosa Spider-Gwen, MARVEL no pudo dejar pasar la salida de un montón de Portadas variant con esta vieja/nueva chica preferida de MARVEL, pero , la que al parecer fue la ganadora y debido a popularidad entre el publico fue, GWENPOOL.
Es por esto que Christopher Hastings, junto con los artistas Gurihiru y Danilo Beyruth un comic lleno de diversión, balazos, rayos laser y todo lo que uno podría pedir para mejorar a Deadpool.
El número 1 cuenta con dos historias en las cuales nuestra protagonista Gwen Poole, lucha contra villanos muy al estilo del mercenario bocón que tanto queremos, para los nerdos, esta es una gran mejora, ya que cambiamos del mercenario bocón con cara de aguacate echado a perder, por una rubia alegre que no para de disparar y meterse en más problemas de los que puede balear.
 Todos los cómics recomendados ya están disponibles el día de hoy en ingles en las tiendas especializadas y en sus plataformas preferidas de comics digitales.