Nintendo sigue mostrando amor por los Nindies, y lo demuestran con otro Humble Bundle, enfocado en títulos indies que puedes disfrutar, apoyando una caridad.

Nintendo ha regresado a Humble Bundle un año después de su primera aparición, esta ocasión para mostrar juegos de los 'Friends of Nintendo', desde estudios independientes, hasta grandes casas desarrolladoras como Capcom y la perecida THQ, esto para una buena causa, traerte grandes juegos y aun precio muy bajo que es difícil de evitar.
Como siempre con Humble Bundle, hay varias categorías para lo que quieras/desees donar, aquí cada zona de donativo, recuerda que entre más dones (alcanzando el máximo permitido) más juegos recibirás, incluidos los juegos que aun no se han revelado y que estarán llegando en los próximos días.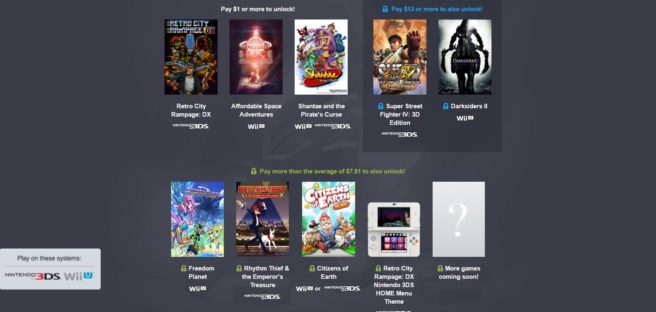 Zona $1 USD:
Retro City Rampage: DX (3DS)
Affordable Space Adventures (Wii U)
Shantae and the Pirate's Curse (Wii U/3DS)
Zona $9.76USD (Puede aumentar con el paso de los días):
Freedom Planet (Wii U)
Rhythm Thief & the Emperor's Treasure (3DS)
Citizens of Earth (Wii U/3DS)
Tema de Retro City Rampage: DX (3DS)
Más juegos por anunciar
Zona $13USD:
Super Street Fighter IV: 3D Edition (3DS)
Darksiders II
Los siguientes juegos serán agregados este próximo 3 de Mayo a la 1PM hora del Centro de México, así que estén atentos si compran su bundle en estos días.
Como siempre, Humble Bundle apoya diferentes causas, y puedes decidir cuanto donar al pagar, entre las organizaciones que apoyan están SOS Children's Villages y Code.org. Pueden ver el Bundle AQUÍ.