Humble Bundle ha estado recientemente trabajando con diferentes títulos, antes fue Nintendo y los Indies, ahora los títulos de Gearbox, Borderlands.
Y en caso de que aún no hayan disfrutado de lo entretenido que puede llegar a ser Borderlands, este quizá sea el momento para disfrutar de estos juegos para PC, ya que Humble Bundle se ha aliado con Gearbox para una buena causa y juegos para todos los que deseen una copia.
Ya sea pagando desde $1 USD como mímo, ya que Humble Bundle se basa en los pagos Pay What you want, pero entre más pagues, más beneficios que recibirás, esto al final del día para apoyar una buena causa, esta ocasión apoyando al Museo nacional de Videojuegos en Estados Unidos.
Al pagar $1USD recibirás Borderlands 1, y 3 paquetes DLC, estos 'The Zombie Island of Dr. Ned', 'Mad Moxxi's Underdome Riot' y Secret Armory of General Knoxx.

Si pagas por encima del promedio ($6.99USD) recibirás Borderlands 2, 3 paquetes DLC estos 'Psycho Pack', 'Mechromancer Pack' y 'Creature Slaughterdome', además de un cupón para el 75% de descuento en The Pre-Sequel y más contenido incluido próximamente.

Y si pagas $15USD o más recibirás el Upgrade Pack Ultimate Vault Hunter, 'Headhunter 5: Son of Crawmerax', el Season Pass y 25% de descuento en Mercancía de 2K en 2K Store.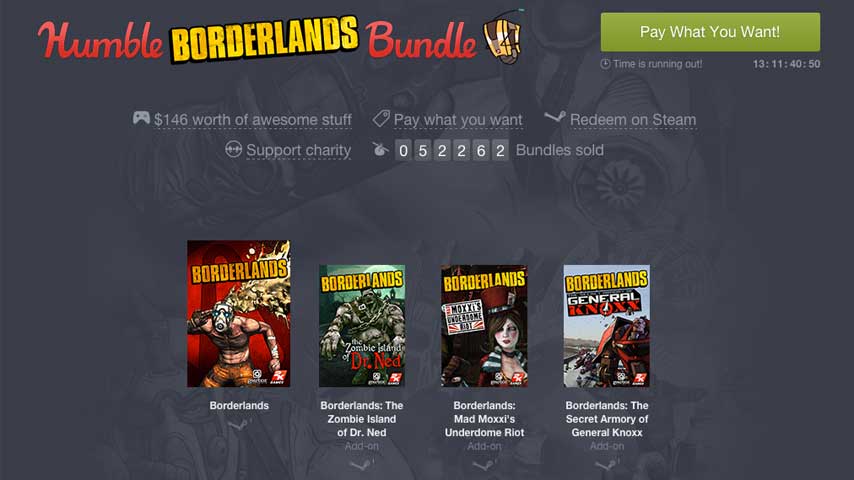 Sin duda es un atractivo paquete, especialmente si no han adquierido estos juegos, especialmente recordando que hace unos cuantos meses llegó la versión de lujo para PS4 y Xbox One, que contiene todo el DLC para Borderlands 2 y The Pre-Sequel.
Pueden adquirir aquí su Humble Bundle, por medio de su sitio web.