Por fin la espera ha terminado, después de varios meses de su anuncio el nuevo Gears está ahora en nuestras manos para poder disfrutarlo y matar de nuevo algunos Locust.
La temática del juego es similar a las entregas anteriores, ya sabes matar unas cuantas larvas para poder salvar a la humanidad y a tu propio ser, aunque…. ahora contamos con algo nuevo, esta vez estamos defendiendo una ciudad, no una ciudad completamente en ruinas y sin esperanza, ¡NO! una ciudad que hasta hace no mucho celebraba la victoria de las fuerzas de la COG contra la URI (Unión de Repúblicas Independientes).
En esta entrega por parte de People can fly nos reencontramos con dos viejos lobos de mar y muy amigos nuestros, el teniente Damon Baird y nuestra super estrella de trashball Augustus "el tren" Cole y a dos nuevos personajes: un ex teniente de la URI el ahora cabo Garron Paduk y la cadete de la guardia de ónice Sophia Hendrick; todos encargados de una sola cosa… defender a la humanidad de Sera hasta su último aliento.

Un extra que los creadores quisieron darnos es un aftermatch que se lleva a cabo mientra Marcus Fenix defiende Azura y manda por refuerzos a Baird y a Cole, es una pequeña campaña muy bien llevada que te cuenta esa pequeña parte perdida del Gears of Wars 3.
El juego esta plagado de sorpresas que tu iras descubriendo al pasar del mismo, ademas que cuenta con unos Locust mas feroces y con mas sed de sangre que los de las entregas anteriores, nuevas armas y nuevos personajes igual de horribles a los que les vas a querer disparar en la cara, ademas claro de viejos conocidos y mucho mas jóvenes. Como se habrán enterado algunas tiendas sacaron unos DLC's especiales con algunos personajes para multijugador, los personajes eran: Marcus y Dom jóvenes y la sargento Alexandra Brand, que aunque sea una dama… no te gustaría toparte con ella en un duelo con motosierras.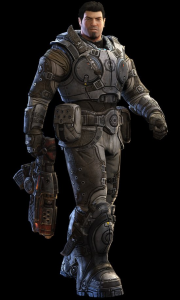 Espero que te guste esta pequeña nota creada para los gamers y para los amantes de la sangre y violencia desmedida que te proporciona Gears of Wars tal como yo.