Y siguen los aniversarios en la empresa nipona; el día de ayer el plomerito rojo Mario cumplió 30 años (vease nota aqui). Y el día de hoy la consola GameCube cumple 14 años de su fecha de lanzamiento en Japón, una consola con muy buena calidad (como casi todo lo de Nintendo), pero no valorada como debía ser; también recordemos que fue cuando empezaron la guerra de las consolas donde estaba combatiendo contra Xbox de Microsoft y PS2 de Sony.
Y por motivo de su aniversario, dejaremos unas curiosidades y datos de esta consola:
* GameCube se lanza el 14 de Septiembre del 2001 en Japón; sin embargo llega a México casi 2 meses después: el 18 de Noviembre del 2001; lo sabemos, los japoneses siempre tendrán todo antes; al menos no nos fue como los europeos que llegó hasta mayo del 2002.
* GameCube no vino solo, trajo una buena cantidad de juegos para disfrutar su lanzamiento:  Super Smash Bros Melee, Luigi's Mansion, Pikmin, Star Fox Adventures: Dinosaur Planet, Wave Race: Blue Storm, Eternal Darkness, NBA CourtSide 2002, Star Wars Rogue Leader: Rogue Squadron 2, Super Monkey Ball, Madden NFL 2002, Dave Mirra FreeStyle BMX2, Extreme-G 3, All Stars Baseball 2002, NFL Quarterback Club 2002, NFL Blitz 2002, NHL Hitz 2002, Batman Dark Tomorrow.
* El nombre en clave de la consola era Dolphin, por ello se incluyeron múltiples referencias a delfines en varios juegos, como The Legend of Zelda: The Wind Waker o la Isla Delfino de Super Mario Sunshine.
* En una medida para luchar contra la piratería, Nintendo desarrolla el GOD (GameCube Optical Disc, un formato de MiniDVD exclusivo de Nintendo con una capacidad de aproximadamente 1,8 GigaBytes de datos) para sus juegos. Para lograr piratear esta consola no sólo era necesaria la modificación de hardware sino la modificación total del chasis, puesto que era imposible introducir en su lector DVD un DVD normal. Y pues daba mucha flojera hacer todo eso, posteriormente se agregaron otros métodos pero no hicieron impacto.
* GameCube fue junto a XBox, la consola más potente de su momento y tuvo su cuota de mercado en torno al 20%, al igual de Xbox, pero muy inferior a PlayStation 2. La consola logró vender solo 22.6 millones (si esto fue el 20% imagínense cuanto sería el mercado en ese entonces)
* Nintendo fue demasiado conservadora con esta consola porque su ideología se basaba en hacer una consola para jugar solamente; En español, no reproducía películas ni música, a diferencia de sus competidoras, así como no contar con una plataforma para juegos en línea. El único juego relevante que hizo uso de esa función fue el Phantasy Star Online Episode I. Tal vez eso ayudó mucho a que no la quisieran tanto. ¿o que opinan?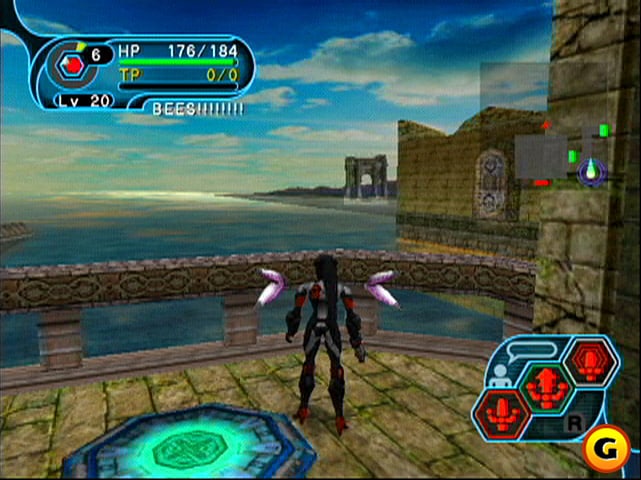 * Si al prender el sistema se deja presionado el botón Z, se escucharán sonidos diferentes; si los cuatro controles están conectados y mantienen los botones Z en todos, se podrá escuchar otro conjunto de sonidos alternativo.
El FDS tenía una música de fondo que se reproducía nada más al encender la consola con él, y la difunta GameCube parece que añora en cierta parte esa música. ¿Porqué? Pues porque lo que creíamos que eran sonidos al azar en el menú de GameCube en realidad son una melodía. Pero para poder escuchar esta melodía tenemos que acelerar el sonido 16 veces. Y ahora, si aplicamos la velocidad de la melodía que suena en el menú de Gamecube. La respuesta en el siguiente video. Nintendo y sus secretos hasta en la musica.

¿Tuvieron la fortuna de jugar con esta consola?, ¿Que juegos recuerdan haber jugado?