Luego de varias semanas conociendo la historia de algunos personajes, Arkadian ABC se pone manteles largos para culminar esta sección con la presencia de un personaje más que emblemático en el mundo de los videojuegos, una princesa que hizo que sacáramos nuestro lado heroico. Hoy llega desde Hyrule a nuestra sección, Zelda, por que hoy es viernes con "Z" de Zelda.
Tuve un sueño… En el sueño, nubes oscuras de tormenta amenazaban todo Hyrule… Pero de repente, un rayo de luz salió del bosque, partiendo las nubes e iluminando la tierra… La luz se convirtió en una figura que sostenía una brillante piedra verde, seguido por un hada… Sé que esta es una profecía, que alguien vendría del bosque… Sí, creo que tú podrías ser el elegido… ¡Oh, lo siento! ¡Te he contado mi historia y ni siquiera me he presentado apropiadamente! Soy Zelda, la princesa de Hyrule. — Princesa Zelda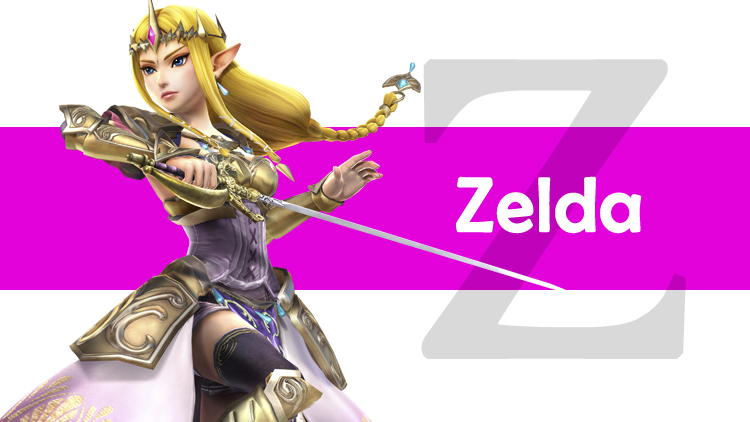 Historia.
La princesa Zelda es el personaje central de The Legend of Zelda, y pese a que la saga lleva su nombre, ella no es el personaje jugable en el mismo, sino más bien a quien resctamos de las garras del mal. Además una de las características de esta princesa es el hecho de que no es la misma en todos los juegos de la franquicia, sino que en cada uno nos encontramos con alguna descendiente del linaje real, pues cada título de la franquicia se desarrolla en un época o tiempo distinto.
Zelda nació como una Hyliana, siendo la encarnación mortal de la Diosa Hylia. Siguiendo con el linaje de esta sangre divina, sus descendientes femeninas son nombradas a menudo Zelda y siempre se la corona con el título de Princesa de Hyrule. Varias princesas dentro de la línea de sangre son también poseedoras de la Trifuerza de la Sabiduría, imbuida con la esencia de la Diosa Nayru. La esencia de Nayru ofrece sabiduría divina a Zelda, lo que le permite discernir las decisiones más sabias, especialmente en situaciones relativas al bienestar de Hyrule. Las Princesas Zelda también son las portadoras de la Fuerza Dorada.
El nombre de Zelda, según lo ha declarado Shigeru Miyamoto, Zelda Sayre Fitzgerald. Aunque también dicho nombre se destaca con aspectos relacionados con la realeza, la bella y la pureza en diversos idiomas o lenguas, pero donde resalta que el nombre Zelda puede ser asociado con la cuarta letra del alfabeto griego, Delta, la cual tiene una forma triangular como la Trifuerza.
Apariciones.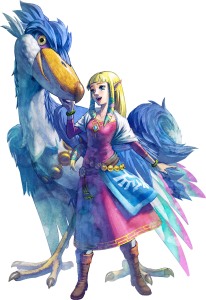 A excepción de Link's Awakening y Majora's Mask, Zelda ha aparecido en todos los juegos de la saga, aunque nunca como un personaje jugable, sino más bien como la doncella que hemos de salvar, y en ocasiones hasta se ha convertido en nuestra compañera en nuestro camino frente al mal, ayudando con su poder interior a vencer al maligno enemigo.
Zelda también ha tenido apariciones en la saga Super Smash Bros. donde se ha convertido en uno de los personajes recurrentes, y sobretodo más queridos y utilizados por los fans, además de que en dicha entrega hace su aparición tanto como princesa como Sheik. Recientemente hizo su debut en Hyrule Warriors, un título donde por primera vez podemos usarla como personaje jugable en nuestra aventura, y en el que podemos ver en acción todo su gran poder y fuerza.
Pese a no ser el personaje que utilizamos en nuestra aventura por cada uno de sus títulos, Zelda se ha convertido en un icono de la industria de los videojuegos y su nombre es sinónimo de luchar por un ideal.
Aspecto y personalidad.
Zelda es presentada comúnmente como una princesa (aunque en Skyward Sword no lo es), su aspecto físico destaca a una bella y joven mujer, la cual vive en los lujos de la realeza. Su cabello es rubio o de tono claro, posee unos lindos ojos y una mirada tierna y cautivadora. Además algo que caracteriza a esta princesa, es que en todos los juegos de la franquicia siempre tiene una edad similar a la de Link, lo cual en ocasiones nos llevar a considerar que están destinados el uno para el otro.
A Zelda la hemos visto con diferentes aspectos, desde ser una niña hasta ser toda una princesa. Lo mismo la hemos visto como parte de una familia real hasta ser una simple aldeana (Skyward Sword), y por qué no, hasta una pirata marítima (Wind Waker). Cabe mencionar que también posee un alter ego, Sheik, perteneciente al clan de los Sheikah, y quien se asemeja a un poderoso ninja.
Su personalidad es admirable, se caracteriza por ser una jovencita llena de sabiduría y un gran corazón, además de que interior reside un misterioso poder que utiliza para enfrentar al mal. Otra de sus características es la de preocuparse siempre por los demás, y poseer un gran valor para enfrentar la adversidad.
Hoy conocimos la historia de Zelda, una princesa que se ha ganado el corazón de muchos, y misma que se ha convertido en nuestro objetivo cuando nos adentramos en alguna aventura por Hyrule. Así, con esta gran princesa cerramos la primer temporada de Arkadian ABC, esperando volver muy pronto con nuevas historias por contar en esta sección. ¡Hasta pronto!