Para ser superhéroe no necesariamente tienes que tener poderes sobrehumanos o poseer un físico mutado genéticamente, también puedes serlo contando con grandes habilidades en el manejo de armas y poseyendo un corazón inquebrantable. Estas y otras muchas características las cumple el personaje protagonista de nuestra sección el día de hoy.

Veloz, certero y letal, así es Hawkeye, quien llega desde el universo de Marvel a engalanar este especial, porque hoy es jueves de Arkadian ABC, hoy es jueves con "H" de Hawkeye.
Historia.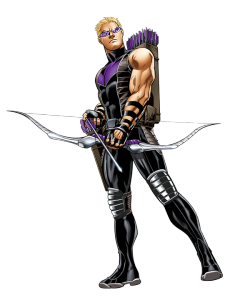 Clinton Francis "Clint" Barton, un huérfano fugado que se unió a una fiera ambulante, tenía solo 14 años cuando atrajo la atención de la estrella de la función, Jacques Duquesne, el Espadachín (Swordsman). Duquesne empezó a entrenar a Barton en el arte de lanzar cuchillos, pero se dio cuenta rápidamente que el chico tenía dotes naturales para el tiro con arco, y se lo entregó a Tiro Trucado, el arquero de la feria. Una vez dominados el arco y las flechas, Barton adoptó el nombre artístico de Ojo de Halcón (Hawkeye).
Tras enterarse de que Duquesne robaba las nóminas de la feria para pagar sus deudas de juego, Barton resultó gravemente herido cuando su antiguo mentor cortó una cuera de equilibrio bajo sus pies. Al recuperarse se reincorporó a la feria. Tiempo más adelante pudo ver a Iron Man en acción, lo que le inspiro para usar su habilidad con el arco para luchar contra el crimen. Sin embargo, cuando intentaba impedir un atraco, fue tomado como uno de los atracadores y no tardó en encontrarse luchando contra Iron Man.
Conoció a Natalia "Natasha" Romanova, Viuda Negra (Black Widow), que por esa época era espía profesional. Rápidamente se enamoró de ella y al poco tiempo estaba cometiendo delitos para impresionarle.
Más tarde decidió reformarse y suplicó ser admitido en los Vengadores (Avengers). Impresionado por su sinceridad, Iron Man, antiguo enemigo, avaló su incorporación. Hawkeye permaneció como miembro de los Vengadores muchos años, aunque ocasionalmente se tomaba breves respiros, e incluso se unió a los Defensores durante uno de ellos. Para ayudar al grupo a veces tomaba prestada la fórmula de crecimiento de Hank Pym y se convertía en una nueva versión de Gohat.
Estando de permiso, se casó con Bobbi Morse, Pájaro Burlón (Mockingbird). Ambos se trasladaron a California cuando a Ojo de Halcón le asignaron la formación de una rama de los Vengadores en la costa oeste. Después de que Pájaro Burlón muriera en combate y de la disolución de la delegación de la costa oeste, Hawkeye volvió a unirse a los Vengadores. Murió en una de las muchas batallas que causaron la reciente disolución de los Vengadores.
Poderes y habilidades.
Hawkeye es un arquero experto con una precisión absoluta. Utiliza un arsenal de arcos hechos a medida y diversas flechas trucadas. Cuenta con un intenso entrenamiento como equilibrista y acróbata, además de que es diestro y eficaz en el combate cuerpo a cuerpo.
Perversamente sarcástico, Ojo de Halcón ha diseñado algunas de sus flechas tanto para derrotar como para humillar al contrario.
Curiosidades.
Su primera aparición fue en el cómic Tales of Suspense #57 publicado en septiembre de 1964.
Ha tenido participación en las recientes series animadas de Marvel, así como en el videojuego Marvel vs. Capcom 3.
Protagonizado por el actor  Jeremy Renner, Ojo de Halcón hizo su debut en el cine en la cinta the Avengers, y participó recientemente en the Avengers: Age of Ultron.
Gracias al éxito del personaje en la cinta el traje de Ojo de Halcón ha sufrido algunas modificaciones, dándole un estilo más moderno y cómodo.
En el cómic Avengers #502, Ojo de Halcón sacrifica valerosamente su vida para proteger a sus compañeros Vengadores.
Esta fue la historia de uno de los personajes que tras el éxito de las cintas en el universo fílmico de Marvel se ha convertido como uno de los consentidos por los fans, llevando a este héroe hacia nuevos horizontes tanto en futuro proyectos televisivos como en las historietas cómicas.

Nos veremos la próxima semana con un nuevo personaje y una nueva historia en Arkadian ABC especial de Marvel.