SEGA ha estado trayendo algunos de sus clásicos juegos a otras consolas, esta ocasión, se trata de Sonic the Hedgehog 2, el cual llegará a Nintendo.
Y es que SEGA ha confirmado que uno de sus clásicos, Sonic the Hedgehog 2 está por llegar en un par de semanas a la Nintendo eShop, esto para ambas consolas, esto fue confirmado por medio de la cuenta oficial de Twitter de la compañía.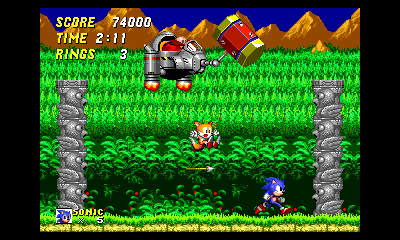 Por lo mismo podemos asumir que el juego está cerca de su estreno para las tiendas eShop de Europa y América. Y que este título clásico llegará el próximo 8 de Octubre, claro, con ajustes y mejoras, esto en cuanto al 3D, algo que SEGA ha estado demostrando con sus juegos clásicos.
Pueden ver aquí el tweet de SEGA, el cual publicó en su cuenta oficial de Twitter:
3D Sonic the Hedgehog 2 will be available in the Nintendo eShop on October 8th! pic.twitter.com/Gh4z64Gzp6

— SEGA (@SEGA) September 28, 2015
"3D Sonic the Hedgehog 2 estará disponible en la Nintendo eShop este 8 de Octubre."
Así que ya saben, si desean disfrutar Sonic the Hedgehog 2 en su consola de Nintendo, podrán adquirirlo este 8 de Octubre.